0. Introduction
Meteorite is a powerful multipurpose WordPress theme created for business and portfolio websites. Meteorite provides a great number of features and customizations like color and font options, different blog layouts and header types, header images or slider and many widgets to create an expressive website.
This site explains how to build your website using Meteorite in combination with Site Origins Page Builder, Terra Themes Tools (for Custom Post Types) and Meteorite Extensions (widgets and more).
a. Install the theme
Go to Appearance > Themes > Upload Theme > Choose file and upload your ZIP archive previously downloaded from the WordPress repository. Or find it by searching in Appearance > Themes.
02. Static front page
If you want to use Meteorite not only for your blog it is recommended to set a static front page.
Create a new page through the dashboard and then go to Settings > Reading and choose your page as the front page under Front page displays.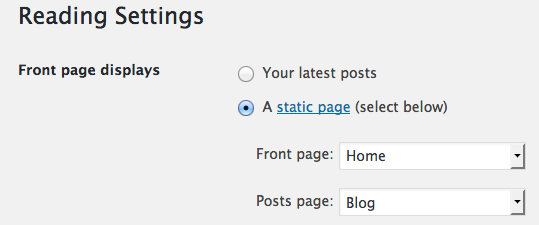 04. Page templates
Meteorite comes with four different page templates. These templates have an impact on how the page looks. For example, the default template has got a sidebar on the right side, the full width template hasn't. The page builder template is like the full width template but doesn't have a page title.
Choose the page template you need. Go to Edit page and select it on the right side.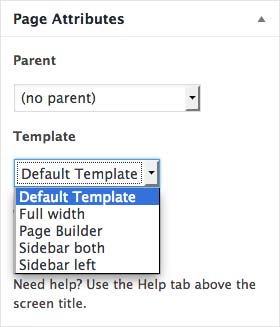 05. Adding rows and widgets
You can use the custom Meteorite widgets in all widget areas and whenever you use the Page Builder. Activate the page builder on a page by clicking the button on the right side above the textarea field. Then you can add rows and widgets. Style the row by hovering over the tool icon on the right side of each row and clicking on Edit Row. There, you can set multiple columns, set the row width, give the row a background color or image, change spacing and more.
Add your widgets by clicking on the row you want your widget to be in and click on Add Widget on the left side. Search for the widget you want or click on Meteorite Theme Widgets to filter them and choose one of the theme widgets. Nearly every widget comes with different types and customization options.
06. Changing fonts
Through the WordPress Customizer you can handle the fonts for headlines and for body text. You can use any Google Font you want.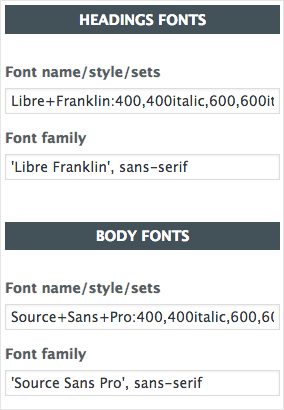 07. Onepage Layout
Of course you can create a onepage layout with Meteorite. If you have set up your site, you should define an ID for each row at the row settings. Then all you need to do is create a menu with custom links. Name them as you like. In the link field you have to put in e.g. #your-row-id.
If you have more than one site but want to keep the scrolling, you have to put in absolute links like http://www.example.com/#your-row-id.
You can also add the class smooth-scroll to a link to let it scroll along the site. Example:
<a href="#your-row-id" class="smooth-scroll">Your link text here</a>
08. Header Image
You can add a header image on every page by uploading your image as the featured image for the page. Navigate to Edit Page and you find the option on the right sidebar underneath the Page Attributes. If the featured image box isn't visible, click on Screen Options on the very top right side and set a tick at Featured Image.
Customize the header image through the WordPress Customizer. There you can change the height, parallax, overlay and much more.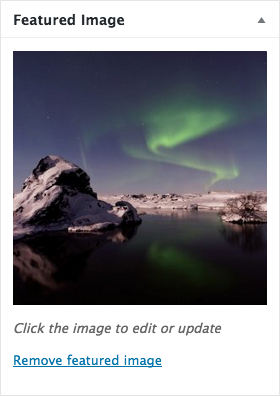 09. Header Text
Through the page meta boxes undearneth the WordPress Editor / Page Builder Editor you can add a page headline and text. This option is only available if you have installed and activated the Meteorite Extensions plugin.
Furthermore, change the headline and text tag to what you need on your page. Default is H2 for the headline and p for the text.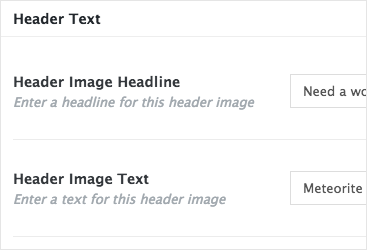 11. Header Shortcode
Through the page meta boxes undearneth the WordPress Editor / Page Builder Editor you can add a header shortcode. This option is only available if you have installed and activated the Meteorite Extensions plugin.
This shortcode can be one from the Terra Themes Slider or almost any other slider plugin.

12. Theme settings
Meteorite makes customizing your theme easy. All theme settings are located in the WordPress Customizer, available through the dashboard > appearence > customize. Create your own unique website with a live preview of your changes.
There are settings for the site information, preloader, layout, header style, colors, fonts, blog options and more. Make sure you check them all to discover the true power of Meteorite.
13. Animations
Meteorite uses some custom animations for the widgets. Most of them offer the animation types fade in, fade in up, fade in left and fade in right. You can use these animations on nearly any element you want, just add a css class to that element. The available classes are: fade-in, fade-in-up, fade-in-left, fade-in-right.
14. Action Hooks
Meteorite comes with a few action hooks throughout the theme. These can be used to modify it or add own content. To get more information use the WordPress Code Reference.
Use this only if you know what you do.
Available hooks:
meteorite_before_site (hooked: meteorite_preloader(), 7 and meteorite_fullscreen_search(), 8)
meteorite_before_header, meteorite_after_header
meteorite_inside_titlebar
meteorite_inside_hero, meteorite_after_hero
meteorite_before_footer, meteorite_after_footer
meteorite_before_content, meteorite_after_content
meteorite_inside_post_top, meteorite_inside_post_bottom
15. Features
Meteorite includes more than 125 customizable options and features like
Responsive layout
Parallax effects
Page templates: left sidebar, right sidebar, two sidebars, full width, page builder
Drag and drop page builder support (Page Builder by SiteOrigin)
WooCommerce shop support
Custom post types (Clients, Employees, Testimonials, Projects, Timeline)
Boxed / Wide layout
Four different page preloader animations
Logo / Favicon upload
Header images with custom text and buttons on every page
Titlebar for subpages
Five navigation types like default or with a topbar (claim / social media / navigation / contact information)
Menu above, above (solid) or below the header area
Sticky or static menu
Boxed or wide menu
Inline or centered menu
Search in navigation
Two search types
Footer background image
Footer widget areas (1-4)
Footer navigation / social media icons
Your own footer credits
Four different blog types and many more custom options to show / hide information
Unlimited color options
Font options (font-family and sizes)
Image and video slider by Terra Themes
Support for all current slider plugins
Over 20 custom and high quality widgets
And much more!